Books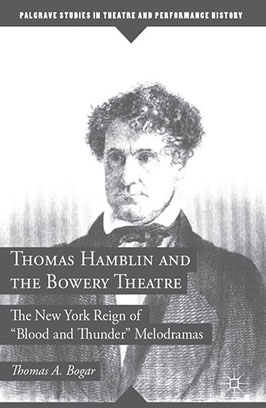 Thomas Hamblin and the Bowery Theatre: The New York Reign of "Blood and Thunder" Melodramas
(Release date: Winter 2018)

This book recounts the personal and professional life of Thomas Souness Hamblin (1800-1853), Shakespearean actor and Bowery Theatre manager. Primarily responsible for the popularity of "blood and thunder" melodramas with working class audiences in New York City, Hamblin discovered, trained and promoted many young actors and, especially, actresses who later became famous in their own right. He also epitomized the "sporting man" of mid-nineteenth century life, conducting a scandalous series of affairs and visits to Manhattan brothels, which cost him his marriage to Elizabeth Blanchard Hamblin (1799-1849) and made him the brunt of moralist, religious and journalistic crusades, notably that of James Gordon Bennett's New York Herald. His machinations and perseverance through trying challenges, including several destructions of the Bowery Theatre by fire, extensive financial and legal complications, and the untimely deaths of several young protégées, earned him equal measures of admiration and opprobrium. COMING IN 2018
Backstage at the Lincoln Assassination: The Untold Story of the Actors and Stagehands at Ford's Theatre
(Paperback release date: April 6, 2015)

April 14, 1865. A famous actor pulls a trigger in the presidential balcony, leaps to the stage and escapes, as the president lies fatally wounded. In the panic that follows, forty-six terrified people scatter in and around Ford's Theater as soldiers take up stations by the doors and the audience surges into the streets chanting, "Burn the place down!" This is the untold story of Lincoln's assassination: the forty-six stage hands, actors, and theater workers on hand for the bewildering events in the theater that night, and what each of them witnessed in the chaos-streaked hours before John Wilkes Booth was discovered to be the culprit.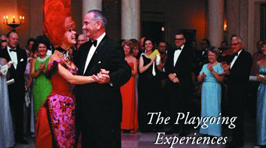 American Presidents Attend the Theatre
(Release date: June 2006)

No presidential visit to the theatre is as famous as Lincoln's last night at Ford's, but American presidents attended the theatre long before and after that ill-fated night. As a young man in 1751, George Washington saw his first play, The London Merchant, while in Barbados. William McKinley avoided the theatre while in office, on professional and moral grounds. Dwight Eisenhower used drama as a vehicle for political propaganda. Richard Nixon took a personal view of theatre, having met his wife at a community theatre audition. Surveying 255 years, this volume examines presidential theatre-going as it reflects America's shifting popular tastes. It provides a chronology of theatre attendance for all 43 American presidents. Defining theatre as a live dramatic performance (including opera but excluding ballet), the book details the attendance and theatrical tastes of each chief executive and the ways in which his choices reflected the tastes of the contemporary American public. An afterword provides a summary of presidential theatre-going preferences.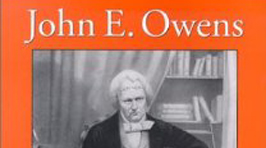 John E. Owens: Nineteenth Century American Actor and Manager
(Release date: October 2002)

John E. Owens (1823-1886), one of the wealthiest, most popular comic actors in America, refined the stage Yankee and won critical and popular acclaim for his eccentric characters and tender, evocative portrayals of garrulous old men. His most famous role was Solon Shingle in J. S. Jones' The People's Lawyer, which he played over 2000 times, earning over $250,000 from it alone.